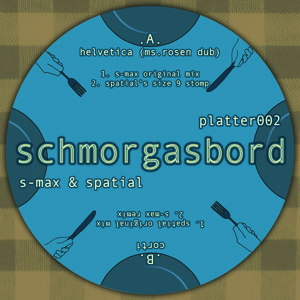 PLATTER002
S-Max & Spatial
S-Max - Ms. Rosen Dub
A1: Original Mix
A2: Spatial's Size 9 Stomp
Spatial - Corti
B1: Original Mix
B2: S-Max Remix
Format: 12" Vinyl & digital
Release date: July 4th 2011
Mastered at Optimum Mastering, Bristol
Distributed by ST Holdings
Preview clips:
About Schmorgasbord Records
Launching out of the sizzling melting pot of Bristol music, Schmorgasbord is a project that aims to stand testament to the generic ambiguity that characterises contemporary electronic music. Each release will force together the sonic aesthetics of two artists from different rhythmic disciplines, one being 4/4 (house, techno, disco) and the other being broken beat (dubstep, 2-step, hip hop), to see what happens when they tackle each others music.
This may take the form of a collaboration, as on the first release featuring Appleblim & October, or it may manifest in original productions and their ensuing remixes. As the early test results have shown, the underlying concept is as much as you can predict for just what this will bring for the label.
About PLATTER 002
The second serving from Schmorgasbord brings together two relatively disparate and unrelated artists, but who both share a uniquely twisted approach to making music.
S-Max has been doing his thing for some time, running legendary home all things bizarre in house and techno, Boogizm, and releasing a special kind of groove on labels such as Telegraph, 7th City and Karloff.
His original track, 'Ms. Rosen Dub', swaggers and sways with the spirit of classic Yorkshire bleeps and bass. The groove is house, but the spirit of adventure is most definitely techno.
His remix of Spatial's 'Corti' takes a very different approach, taking a rolling, jungle-like approach to dubstep and nailing it to the groove with stabbing bass notes.
Spatial leapt onto the bass music radar late 2008 with his shadowy Infrasonics imprint, and quickly snapped heads with his crisp, refined approach to 2-step rhythms. Since then he's done things on his own terms, only releasing for himself and mutating his sound over a series of 10"s.
'Corti' perfectly demonstrates Spatials unconventional tendencies, lurching and buckling around a perfectly honed splatter of beats, off-centre synths and delirious vocal snippets.
Meanwhile on his remix of S-Max, Spatial flips the script once again with a stomping, swung techno angle that hammers the original into an uptempo, fist-pumping banger.