Alec Troniq & Gabriel Vitel - The Aviating (Broque 108)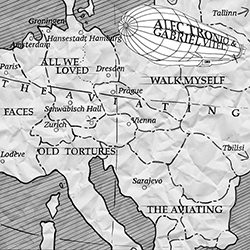 If you were touring the dancefloors of the world as much as Alec Troniq and Gabriel Vitel have done throughout the last two years, you'd be inevitably becoming "aeronauts", or, "The Aviating", so to speak. And that's precisely the title of their new EP on Broque which, by the way, is their first joint release as we are proud to highlight. But after all their previous joint works and two years of touring together around the world, this seemed the logical next step anyway. Those who are familiar with the swinging yet narrative house music by Alec and Gabriel know best that their works are usually clocked right for the dancefloor. However, on "The Aviation" their songs demonstrate, that, in the first place, they are precisely that: real songs, that tell stories about clubs and festivals, but even more so, about everything before and after the glamourous limelight moments. Stories about being on the road, about airports, hotels and all the emotional states one is living through even more intensely when traveling. And as it is with all good stories: they want to be heard.
01 the aviating
02 faces
03 old tortures
04 walk myself
05 all we loved
06 message to frank
>>>> VIDEO CONTEST <<<<
>>>> Look at our sample video!
https://youtu.be/nMOYLqWD91w
Create and upload your own "Alec Troniq & Gabriel Vitel – The Aviating" videoclip on Youtube or Vimeo! Send your public link to
tend@oderaufbrot.de
! The deadline is 30/11/2015! Our jury will rate your video according to idea, implementation and technique and will choose the winner among all submissions. There is no recourse to legal action.
>>>> The winner-video will be the official video of the "The Aviating"-single! We will link and promote it together with the release! The maker of the winner-video and his crew will get some places on the guest list of the next show by Alec Troniq & Gabriel Vitel in your area incl. Meet and Greet! Get your own Aviating experience with a Jochen Schweizer voucher "Fliegen & Fallen" in the value of 199 Euro!
>>>> The following jury will rate you videos and will find the winner:
1. Antonin Pevny, Linz
Musicvideo-Director (Moby, Parov Stelar, Bilderbuch)
www.pevnyfilms.com
2.David Süß & Peter Becker aka Highflyer, Munich
VeeJay`ing and Virtual Design (Harry Klein)
www.stella-stellaris.de
www.harrykleinclub.de
3. Moritz »mo.« Sauer, Cologne
Journalist, Lecturer, Webdesigner
www.netlabels.org
4. Christian Kausch & Alex v. Harsdorf
Label A&R and Artist Management (Tinush, Alec Troniq)
www.broque.de
www.mutemax.com
Info:
www.broque.de
www.alec-troniq.com
https://www.facebook.com/Gabriel.Vitel