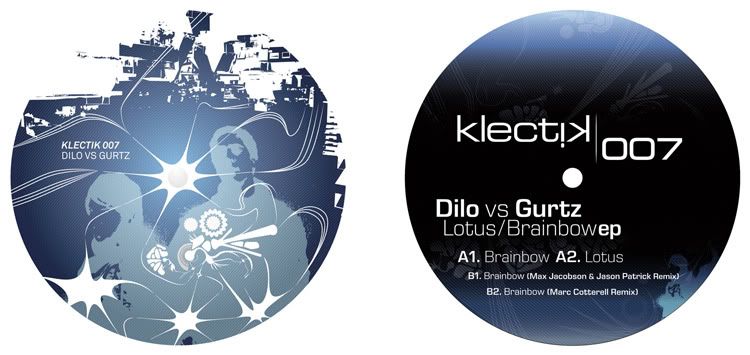 Klectik007 Dilo vs Gurtz - Lotus / Brainbow EP W/ Remixes from Max Jacobson & Jason Patrick, and Marc Cotterell
Out now exclusively on 12" Vinyl, available mid Sept on Beatport and other Mp3 outlets
dilo_vs_gurzt_brainbow_original_mix_preview_sample
dilo_vs_gurtz_lotus_original_mix_preview_sample
dilo_vs_gurtz_brainbow_max_jacobson_n_jason_patick_remix_preview_sample
dilo_vs_gurtz_brainbow_marc_cotterell_remix_preview_sample
Available at these fine outlets
klectik007_available_at_decks
klectik007_available_at_wordandsound
klectik007_available_at_gramaphone
klectik007_available_at_juno
With the long-awaited release of the Lotus/Brainbow E.P., Klectik welcomes its first international act and offers its most essential release to date! Joining the Klectik family are two of Argentina's finest young producers, Juan Franco Di Lorenzo and Gonzalo Urtizberea. Dilo and Gurtz are respected around the world for pushing the distinct sound of South American techno—music that is cerebral and experimental yet sexy and organic all at once. This release also marks the duo's first original release together in over a year! Each producer has an impressive body of solo work and live performances, but when this duo gets together, it's nothing but pure musical magic. Dilo vs. Gurtz records have also appeared on Adjunct, Einmaleins, and Dilo's Igloo imprint. The E.P. also features two stunning remixes, one from Jason Patrick and Max Jacobson, and the other from Marc Cotterell.
Support from Danny Tenaglia, Paco Osuna, Elon, Jorge Savoreti, Mazi, Taimur, Andrew Grant, Bryan Zentz, Dan Berkson, James What, Stefny, Brothers Vibe, Bloody Mary, Mirco Violi, Kate Simko, Chris Fortier, Kane Roth, and Lady D
Danny Tenaglia (NYC, Twisted) - Dilo vs Gurtz - Lotus (Original Mix)
thanx!!
Paco Osuna (Spain, Plus 8, Mindshake) - Dilo vs Gurtz - Brainbow (Original Mix)
thank you will try it
Andrew Grant (Barcelona, Circoloco, Baracca) - Dilo vs Gurtz - Lotus (Original Mix)
boom bat bit
Mazi (Fresh Meat, Chicago) Thanks for this. I love that Marc Cotterrel remix of Brainbow. It's exactly the kind of timeless non-stop groove thing I love. WIll play it
tonight 4 sure.
Taimur (NYC, Blk Market Membership) -
im really really digging these 2 out of both packages you sent dilo_n_gurtz_brainbow original - amazing tune. dark but chuggy. vocal on it
super dilo_n_gurtz_brainbow_jason_patrick_n_max_jacobson_rmx - this remix is
great. dubby techno perfect for the morning. Im playing these for sure.
Dan Berkson (London, Pokerflat) - dilo n gurtz - strong Ep, my fave is definitely marc cotterell's remix, great vibes and really well produced!
Bloody Mary (Berlin, Contexterrior) - Dilo vs Gurtz - Lotus (Original Mix)
James What (London, Pokerflat) - Dilo n gurtz: nice release. love Coterrell's deeper mix.. nice techy groove on "Lotus" too!
Stefny (Montreal, Archipel, Contexterrior) - i really love this release always great stuff from these guys. Lotus is my favorite of the bunch
love the groove and the vocal.
Mirco Violi (Italy, Adult Only) - marc cotterell rmx is the track for me in this ep !
Brothers Vibe (NYC, New Jersey, Cadenza, Freak N Chic) - Hey... Killer works! My fav.... dilo_n_gurtz_brainbow_jason_patrick_n_max_jacobson_rmx_mmm.mp3 Nasty!!
Kane Roth (Berlin, Lesizmore, Groom) - I recentely listen the release and I really like the remix you did with Max Jacobson and the Lotus track (Original mix) I will play both for sure, I can't wait :-) Thanks for sharing!
Chris Fortier (NYC, Fade) - Dilo vs Gurtz - Lotus (Original Mix)
dig original and max & jason remix
Bryan Zentz (Portland, Disruptor, Plus
- Dilo vs Gurtz - Lotus (Original Mix)
cool! slight underworldish vibe w the vox on lotus. nice one for klectik