Hey John! The "documentary" seemed me a bit heavy in mood, so I gave up after minute 35. But I did some observations and I would like to share them.
I think is important, too, and above all because I feel it, to share some basics on how reality is created. This, hopefully, will delete the need to "debunk" any information presented, though I'll, the same, touch the subject.
Buddha wrote:
one becomes the object of attention
So what do we have here? We have a source of frequencies, an instrument emitting sound, and this frequencies modify the shape that salt, as a group of particles, takes.
Nikola Tesla wrote:
If you want to find the secrets of the universe, think in terms of energy, frequency and vibration.
Analogously, we, humans, are instruments, thought is measurable as a frequency in the same way as sound: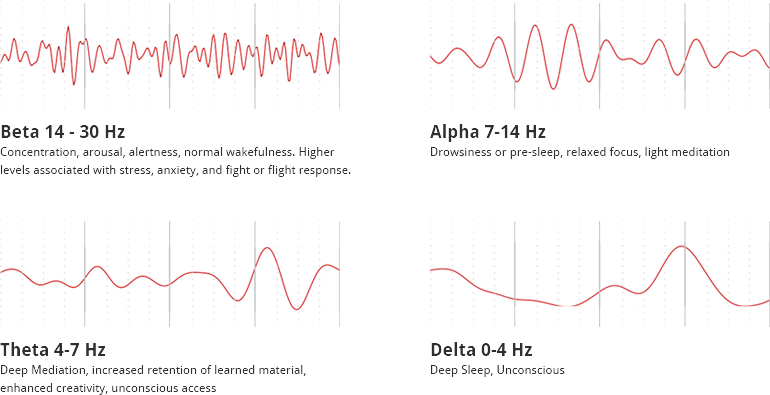 The shape the salt takes can be compared with our reality, and if "the instrument" can be "adjusted" to emit a different frequency: so are we.
There is in us a group of glands which in orient are called
cakras
.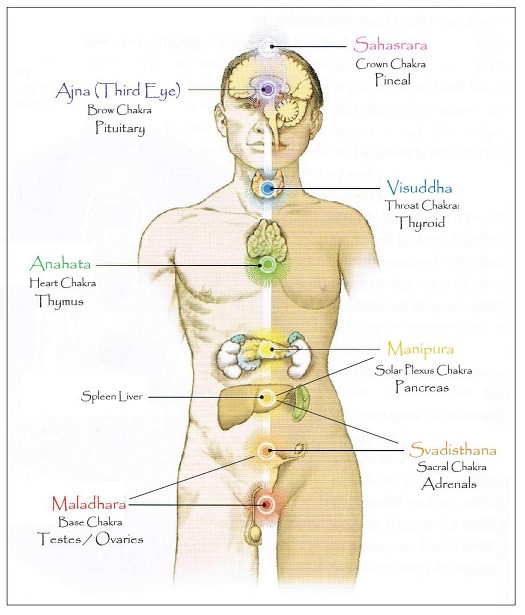 From the most materialistic point of view, this are only so:
glands
. Going a bit deeper, this are what connects the mind with the body. And a little further: us with the universe...
This are, in a way, what configures the frequency we emit. If one of this is dysfunctional, the frequency we emit would be "incomplete", or disharmonious. The yoga postures or
asanas
stimulate this different glands in order to equilibrate their secretion and, posteriorly, our being.
So
, what happens if you are fearful and confused? What kind of frequencies are you emitting? And, which is the configuration, or mindset, that precedes those frequencies?
Semjase wrote:
Religion is only a primitive concoction by man to command, suppress and exploit others, to which only spiritually weak life forms succumb.
She's one of the extraterrestrial humans, Pleiadian, that's been in touch with Billy Meier. An important thing to note is that their "teachings" lead to the same truths you can find in oriental philosophies...
Being "spiritually weak" means you have no power to decide or not if an external vibration can enter you and modify you, what makes you easily suggestible.
. wrote:
So, what happens if you are fearful and confused? What kind of frequencies are you emitting? And, which is the configuration, or mindset, that precedes those frequencies?
A mindset is a malleable "body". If I get in touch with someone who's strong and full of vitality, I'll get caught and adapt "myself", in large terms, and as a mindset, to him/her, which could be good if I'm weak - there is an expansion of the self to an higher rank of inner movement. But if someone's sick and has a mindset of weakness, being myself spiritually weak and, by so, having no "discernment" to decide if allowing this person's vibrations or not, I'll get caught by their expression and go down with him/her (does the term "toxic people" says something to you?).
(is there a regular or common mindset exposed, let's say, in TV, which is, or was, the principal "source of information" people has had for an important period of time? think about it...)
The universe is ruled by laws. We could say "gravity" is one, probably the most known, but there are more. Esoterism is the knowledge of this laws.
I'm sure many have heard about law of attraction (?) Basically, similar vibrations attract each other. Love and fear are frequencies. If you vibrate in fear, you'll attract situations that will keep you in fear. Same with love. So if you want to receive a particular vibration, try to approach it within yourself (I'm re-learning by "canalizing" this message).
. wrote:
There is no "pause" and we vibrate permanently. The universe responds and sends a "casuality"... which is nothing but the reaction to how we're vibrating. This way,
vibration is an act within it self
...
So this "documentary" will make sense only to those who resonate that way, which is, to me, a way of fear and confusion. Beliefs are like "padlocks" that sustain standars of vibration. The information there presented will lead you to sustain vibrations of fear, of confusion, and that you'll attract: something completely good for those in the power, since they are the fear suppliers (if those in the power were vibrating in love, things would be
very
different).
Having said this, a view on the information:
You say, John, that the "take" is "completely different", but what I've seen in those 35 minutes is not far away of what Greer talks about. In fact, the first two or three witnesses presented in this "Undeniable Evidence Aliens Do Not Come From Other Galaxies" are, aswell, shared in Greer's expositions, Edgard Mitchell being one of them (I posted a video a few posts back). And, if I'm not wrong, a fragment of one of them speaking belongs to this interview that is part of the Sirius movement, a Greer's franchise:
I remark that none of this witnesses talks about demons or "evil" aliens. They do speak of the government covering information.
The second thing that matches Greer's speech is the supposed fact that the government has had access to advanced technologies since approximately the 50s.
One of the things that doesn't resonates me, from the intelectual point of view, is the exposition of images looking cheap and photoshopped + the documentary in it self presented as "Undeniable Evidence".
The issue in disinformation is extensive and delicate. I don't feel myself clear enough to speak about it, but I trust in Greer's work. He touches this topic in the chapter 7th of
his first book
(page 59). Also, he speaks a little in this fragment I've selected (I guess I can't paste the video because is time stamped, but follow the link!):
http://www.youtube.com/watch?v=O7rDbqQbYrc#t=653
About this:
I'll limit myself only to a question: if there is a Nazi base on the moon with 2 million people inhabiting it and "very advanced technology" (something obvious if you can go to the moon and sustain a civilization, no need to repeat it like 4 times (?), ain't a bit silly to have builded it with the Swastica's shape in a way that can easily be discovered by a random satellite or any quality telescope? Though I have my doubts about the supposed ancient ruins discovered in the dark side of the moon, so I'll give it a chance...
Something interesting is that they speak about the spirits of the moon. Well, inter-dimensionally there is, supposedly, a reign even in the sun... This is a topic I find fascinating. I had a good reading this year
here
. I find this important because it's been written in 1758, I believe there were no severe disinformation campaigns around that time, if any, so I trust highly in this material. Besides, it doesn't contradicts the metaphysical "idea" from today: it's a good complement.
Though I don't know Greer's position on this subject with certainty, I believe he understands well the difference between ETs and "spirits". I haven't read it yet but
this
document clarifies his perspective. The last video of him I posted, in the previous post, clarifies the issue as well.
My version of the solution
:
Gandhi wrote:
you must be the change you want to see in the world
This man was no fool and was in knowledge of the "esoteric" aspects of reality.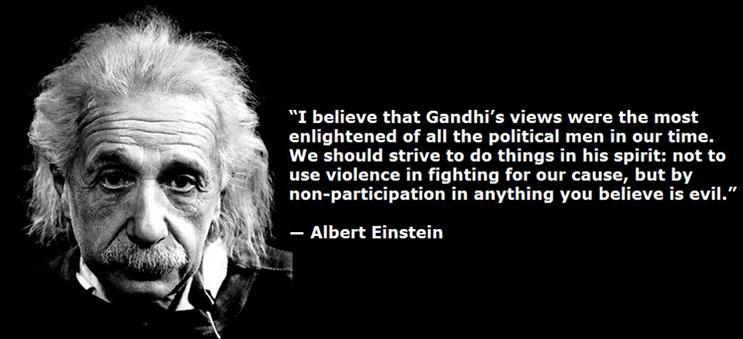 So did Einstein, though from a more western view, since here we've developed more our left hemisphere and we need "rational" and "logical" explanations to "understand" things (I use " in
understand
because a mere intellectual approach on a subject is incomplete, and being
rational
and
logical
as most westerners believe it is: is not - to fully understand an issue an equilibrated mindset is needed. The brain has two sides, not in vain); unlike easterners, not that they've developed more the right hemisphere but they've kept a balanced use of it (the brain).
The
solution
, then, is the
self-transformation
to an state of being whose vibrations are the opposites to the ones that "rule" today, which are of fear and confusion. So
we need to vibrate in love and trust in ourselves
, and become
spiritually strong
to sustain ourselves that way.
Jiddu Krishnamurti wrote:
It is no measure of health to be well adjusted to a profoundly sick society.
I can go deep in this process of "healing", but for today is enough.